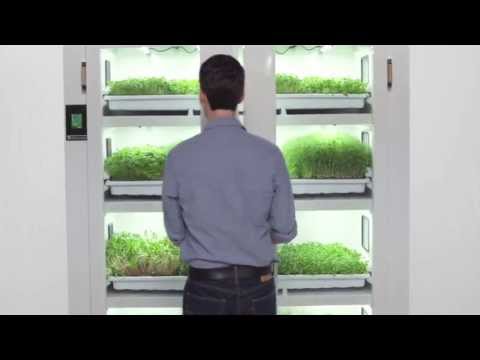 Fully Automated Indoor Gardening System (UCC)
Features
The Urban Cultivator Commercial gives you the ability to provide the freshest herbs and greens possible for your customers. Designed to accept the flats of herbs you already receive from your supplier, keeping your herbs and greens growing until the minute they are needed.
EASY TO GROW
The Urban Cultivator Residential is easy to use, featuring automated functions that make growing your own as easy as 1, 2, 3.
ORGANIC ALL THE WAY
Urban Cultivator seeds are non-GMO, and no sprays or chemicals are added in the growing process. You're getting 100% organic, healthy food.
NEW DEPTHS OF FLAVOUR
Microgreens grown from an Urban Cultivator are packed with flavor, giving you the ability to elevate any dish.
FROM FARM TO FORK IN 10 SECONDS OR LESS
From your Urban Cultivator Commercial to your plate to a patron—it's as fresh as it can get. Growing in an Urban Cultivator means that you harvest the second you're ready to plate.
PACKED WITH NUTRITION
Microgreens not only take less time to grow when compared to their mature counterparts, but are denser in nutritional content. They're as healthy as they are flavorful.
IMPORTANT: Images may not reflect actual product.
Specifications
General
Color
Stainless Steel
Manufacturer Color
Clear Glass
Commercial
Yes
Additional Information
• Industrial castor wheels
• Grows 16 10" x 20" trays, or 64 10" x 5" trays
• Starter kit included with seeds and plant food
• Auto pH & TDS monitoring
• Auto watering cycles
• Standard 3/4" water fittings
• Monthly average kWh: 65 kWh
• CSA certified
• Castor wheels
• Magnetic seals
• 1/4" MPT plumbing fittings
• Automatic watering
• Customizable program
• Removable grow drawers
• Restaurants and bistros
• Deli and sandwich shops
• Chefs looking to stand out with a unique angle
Dimensions
Width
66 inch(es) / 167.64 cm
Height
80 inch(es) / 203.2 cm
Depth
54 inch(es) / 137.16 cm
Weight
545 lb(s) / 247.21 kg
Warranty
Warranty
• 3-year warranty (1 year parts and labour. 3 years parts)
UPC
UPC#
638353933272